Overhead & Sectional Doors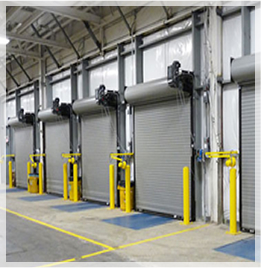 Our team of highly skilled and trained repair and installation technicians are always here to solve your overhead door parts issues or to answer your overhead doors repair & installation needs. Our technicians are skilled to work on all types of sectional and roll up doors. In addition, we at Armsco Doors continuously develop and upgrade our services with investments in the most professional equipment and vehicles to meet your repair, servicing and installation needs.
Sectional Doors – Pick our sectional doors if you need a cost-effective solution for your garage and warehouse needs. Armsco Doors provides a wide selection of sectional doors in various styles and configurations. Whether your need is for insulated steel doors, aluminum glass door or other commercial applications we'll provide a durable, reliable and economic option.
Rolling Fire Door Installation and Inspection – Our team of highly skilled fire doors technicians can install rolling fire doors and do the proper annual inspection to give you a piece of mind. We perform fire door testing service with all the proper qualifications and experience for fire door testing. Each customer receives a written inspection report for their records. When needed Armsco Doors will make repairs.
Strip Doors – Armsco Doors strip doors can help you separate certain section of your building and workspace. They are also a great way to reduce energy costs by separating conditioned spaces from non-conditioned spaces. Perfect for warehouse and industrial applications.
Screen Doors – Check out the extensive offering of screen doors with different styles! Simply search select and call us to deliver and install it for you. Have any question about the screen door styles? Contact us, we can recommend the best and most cost-effective screen doors solutions. Call one of our experts today to discuss your next door installation and repair project.
Call For a Free Quote!
(713) 460 8002
---
Entrance Doorways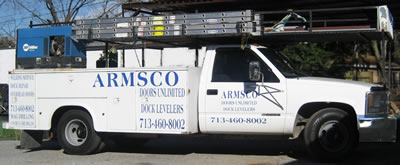 Our huge collection of different doorways will make things a lot easier for any customer searching for a reliable and high-quality solution for commercial buildings. From hollow metal doors, to bump doors and scissor gates, we offer cost-effective solutions based on the customer demand.
If you have any questions, call our office and one of our customer service experts will help you find the right models and pricing to meet your needs. At Armsco Doors, we always guarantee the best quality doorway products, installation, and customer service satisfaction. With over 30 years of experience in the door industry, we are sure that you will be fully satisfied by utilizing our doorway solutions!
Hollow Metal Doors – Great for commercial use, our hollow metal doors are a reliable long-term solution that comes in sizes and gauge thicknesses. Just call us to find the perfect door for your needs. Choosing a quality Hollow Metal Doors is important for the application to ensure an extensive and lasting amazing look and functionality and Armsco Doors is here to provide you with the very best design.
Bump Doors – Armsco Doors Bump Doors are an excellent solution for places of high traffic which open either direction. The Bump Doors are actually swinging doors designed with sturdy materials to withstand the rigors from carts, forklifts, vehicles or employees/people opening them up by ramming or pushing them. They are a durable and functional solution that does not slow down the movement of people and materials.
Scissor Gates – Scissor Gates are a reliable, simple and smart solution for any commercial property to help control and regulate security, ventilation, and visibility. It can be used together with various overhead doors.
Horizontal Sliding Security Grills – Our horizontal sliding security grills have been used for decades for thousands of commercial property owners. They are an amazing long-term solution against break-ins, theft and similar acts of vandalism. They are great to protect stores, banks, stadiums, family houses and basically any building that needs premium protection.
Get Your Project Started!
(713) 460 8002
---
Loading Docks & Restoration

Armsco Doors employs a team of highly trained and experienced technicians that can professionally repair, service and install numerous types of loading docks for local disturbers to large hubs.
Dock Levelers – Armsco Door's Dock Levelers are top of the line and always offering the best safety and reliability with the smoothest transitions in the industry.
Dock Shelters – We install dock shelters and protect your assets, property, and employees from rain while providing unobstructed vehicle access. The dock shelters are a desirable part of a safe and productive loading dock running smoothly.
Dock Seals – The dock seals are foam pads that are one of the key components of a functional dock. They are really useful pads that the trailer compresses into when it backs in and seals the loading dock from the outside weather.
Bumpers – Call us to install these bumpers to protect your dock. Our bumpers assure great protection of the concrete edges reducing the impact force from truck trailers. Call now to speak to one of our experts for a free estimate.
Call for a Free Quote!
(713) 460 8002
---
Material Handling Equipment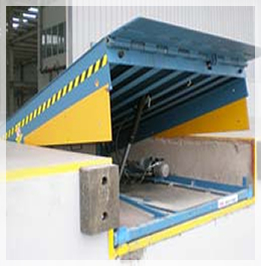 Dock Board – Check our offering for dock boards and assure the safety of our loading dock operations when the trailer height is not the same height as your dock. No matter which of these dock boards you pick, you will get guaranteed safety to use forklifts, trucks, vehicles and other power equipment. To ensure safety and reliability, customers rely on Armsco Doors dock boards when loading and unloading heavy loads at your loading dock.
Mezzanine platforms – Armsco's mezzanines may be installed (rather than built as part of the structure) in high-ceilinged spaces such as warehouses. These semi-permanent structures are usually free-standing, can be dismantled and relocated, and are sold exclusively from Armsco Doors.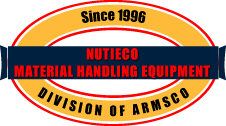 At NUTIECO, our efficient logistic flow allows us to provide our customers with the RIGHT item, quality, pricing, and provides a one-stop shop for all one's logistics needs.
Simply, we keep your logistics running smoothly!
Get Your Project Started
(832) 287 0344
---
Steel Fabrication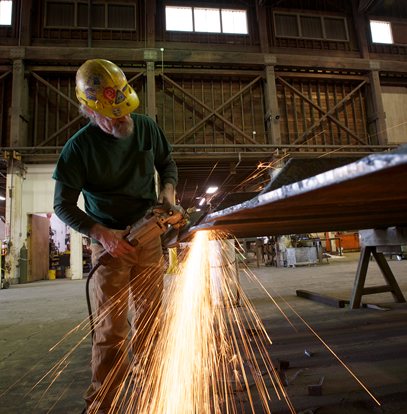 With our manufacturing and design experience and technical know-how, we also offer custom steel fabrications. We have the management and technical skills to comply with custom steel fabrication needs for your various ferrous steel products. Our aim is always to satisfy the needs of the customer with quality and competitive pricing!
Call For a Free Estimate!
(713) 460 8002
---
Concrete Repair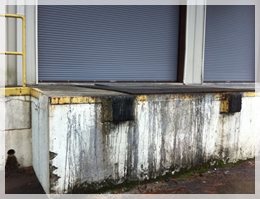 Holes, Mag, & Core Drilling – Using our high-quality equipment, we can safely and efficiently drill holes in multiple sizes. Our core drilling equipment can safely and successfully make holes up to 50 inches!
Bollard installation – Armsco Doors offers fast and safe bollard installation for commercial and residential facilities. We provide installations that stand up to the contact from trucks, forklifts and other large vehicles. We install bollards inside or outside – where ever you need protection for your property and other assets. No matter what the needs are, we are your commercial door and dock service and installation experts.
Call for a Free Quote!
(713) 460 8002